Some people will tell you that plastic decking and composite decking are the same thing, but there are a number of key differences between these two materials. For one thing, plastic deck boards are entirely artificial, whereas composite boards are made by combining polymers with real wood flour, making them a kind of 'semi-synthetic' option.
But which material is better? Both composite and plastic decking have the enormous benefit of requiring very little maintenance, but we at TimberTech UK believe that composite wood products are superior to plastic deck boards in practically every other way. Read on to find out why, or
click here to order a free sample
of our own composite wood decking.
Not all artificial decking is created equal!
Environmentally-friendly Option
Plastic decking is not a very green choice, whereas TimberTech's decking products are designed to have the smallest possible impact on the world around us. Our deck boards are made using waste wood from the furniture industry; these materials, which would otherwise be placed into landfill, are ground into 'wood flour' and combined with polymer to create an artificial decking solution that's great-looking, long-lasting, and low-maintenance too!
Guaranteed Better Quality
All TimberTech decking comes with a 30-year residential guarantee – our products are made to last! While plastic deck boards are hollow and can bow and crack underfoot, TimberTech boards are solid and exceptionally stable. And unlike timber decking – the other main alternative to plastic – you won't have to worry about TimberTech boards fading or warping.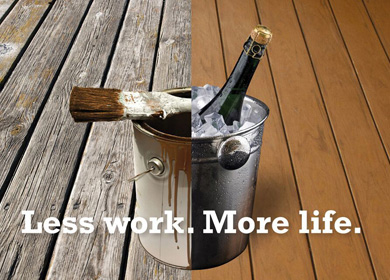 Low-maintenance Decking Solution
If you're thinking of buying plastic deck boards, it's probably because you heard about their minimal maintenance requirements. However, please bear in mind that TimberTech decking also requires practically zero maintenance – it may look like wood, but you'll never have to spend time sanding or painting it. All it needs is the occasional jet wash to keep it looking good, leaving you time to relax and enjoy your beautiful deck.